Symantec™ Managed PKI for Adobe® Certified Document Services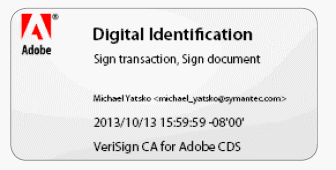 Why Symantec MPKI for Adobe CDS?
Moving from paper-based systems to electronic documents and workflows can dramatically increase the speed of business, improving your responsiveness to opportunities, saving staff time, and building customer satisfaction. But if you have to go back to paper to secure signatures, you'll lose some of these benefits as you slow down to print and sign, then fax, mail, courier, or scan and e-mail documents. These delays add up: on average, most workflows require at least three signatures.
Take full advantage of the potential of electronic documents with Symantec™ Managed Public Key Infrastructure (MPKI) for Adobe® Certified Document Services (CDS) powered by VeriSign® technology. Digital certificates issued by MPKI allow your organization to add digital signing capabilities to your electronic workflows, saving time and money. According to a recent survey by AIIM (Association for Information and Image Management), of organizations that have implemented digital signatures, 63 percent report that they achieved significant ROI within 12 months
| | |
| --- | --- |
| INTEGRATES WITH ADOBE APPLICATIONS | Seamless interoperability with the Adobe ecosystem ensures digital certificates issued by MPKI can be employed by off-the-shelf bulk-signing PDF signing solutions, and verified by any Adobe Acrobat, Adobe Reader or Adobe LiveCycle user. |
| SIMPLIFIES ADOPTION OF DIGITAL SIGNING | Deploy digital signing solutions quickly and easily without purchasing any additional hardware or infrastructure to manage digital certificates. MPKI provides a cloud-based solution that issues and manages digital certificates for individuals, groups, and companies. |
| SCALES WITH THE SIZE OF THE ORGANIZATION | Digital certificates can be deployed on hardware tokens to enable manual digital signing by individuals, or on a hardware security module to enable integration with bulksigning applications. |
| IMPROVES BUSINESS PARTNER CONFIDENCE | A digitally signed PDF document proves who signed it, when the signer executed the signature, and whether the content has been altered. Digitally signed documents provide partners with confidence to trust electronic documents, and auditors with assurance that archived documentation is authentic. |
| ACCELERATES BUSINESS PROCESSES/WORKFLOWS | Digitally signed documents eliminate paper files, delays and costs associated with paper-based processes, and reduce the time required to execute business processes. |
Speed and cost savings are just the start. MPKI for Adobe CDS also delivers new levels of security. Every time you pull up a PDF document signed with a trusted digital ID from MPKI for Adobe CDS in either Adobe Acrobat®, Reader® or LiveCycle®, you can now verify these three things:
Who signed it;
When they signed it; and
Whether it's been changed since they signed it.
These capabilities make MPKI for Adobe CDS essential for any organization or individual looking to ensure content integrity and security to optimize handling of contracts, forms, government paperwork, non-disclosure agreements (NDAs), quotes, proposals, invoices, approvals, memberships, and other high-volume transactions. In addition to helping you meet your own internal control standards, this solution also helps you to comply with regulatory requirements such as HIPAA, the Gramm-Leach-Bliley Act, and the Sarbanes-Oxley Act.
How Symantec Managed PKI for Adobe CDS Works
Managed PKI for Adobe CDS, offered by Adobe and Symantec, powered by VeriSign® technology offers seamless integration with Adobe document publishing applications that is easy to use.
PDF files signed with Managed PKI for Adobe CDS are certified.
When viewed in Adobe® Reader or Acrobat by the recipient, the signature is automatically verified.
A message confirms that the signature has been validated.
Recipients can view additional information, such as certificate details, signer's contract information and validation method, by clicking the signature properties.
How to sign a document
Adobe Acrobat, Reader, and LiveCycle allow users to apply digital signatures to PDF documents, but first users need to have a digital ID. Now, MPKI for Adobe CDS provides a simple way to generate and manage trusted digital IDs, so that you can reliably issue certificates to individuals, groups or companies. It provides validation services to check the current status of these certificates and generates a time stamp that it includes with all digital signatures.
Adobe has embraced PKI technology, and has included digital signature functions since Adobe Acrobat™ Professional and Standard (Version 6.x), Adobe Reader™ (Version 6.x), as well as Adobe LiveCycle™ Document Security Server (Version 8.x) and LiveCycle™ ES Digital Signatures.
What you see when you open a document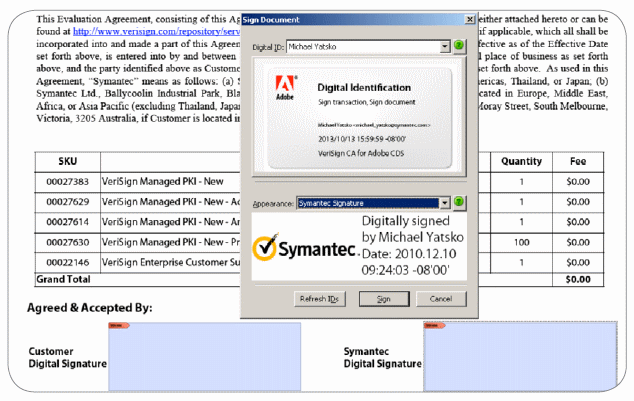 Adobe Acrobat, Reader, and LiveCycle natively trust only digital IDs from Adobe CDS. Every time someone opens a PDF document signed with an Adobe CDS digital ID, these applications immediately verify it and provide strong visual marks that clearly show who signed the document, when, and whether the document has been changed since that time. Recipients need no special software, plug-ins, or configuration.
Use Adobe Acrobat for low to moderate volume signing
An individual or a department is issued a SafeNet FIPS 140-2 level 2 cryptographic USB token which holds the verified signer's CDS certificate. Each PDF document is signed individually, using a secure, two-factor process with the token.
Use Adobe Live Cycle® Security server for high volume document signing
Organizations with high volumes of documents (such as bank or billing statements, or reports in the name of an organization) should use Adobe Live Cycle Security server. The certificate is securely stored on a SafeNet FIPS 140-2 level 3 hardware security module (HSM) and enables batch processing without manually opening each document to apply the certificate.
Local Control of Certificate Management
Manage PKI for Adobe CDS enables more secure, reliable electronic document exchange. Organizations are able to publish trusted documents to an open community where pre-existing trust relationships might not exist. Symantec provides a fully-managed, centralized and secure web-based management system that allows authorized Registration Authorities to enroll users, run reports, revoke certificates and manage certificates. World-class customer support is available by phone and email. Professional system integration services, as well as a full range of support options, are also available.
What happens behind the scenes
Before creating any MPKI account for an organizational customer, Symantec conducts stringent verification of corporate identities based on publicly available documents such as entries in commercial registers. Symantec MPKI for Adobe CDS complies with the Federal ESIGN Law in the United States, and certificates are available with validity periods of 1, 2, or 3 years. It includes standards-compliant online validation ( RFC 2560 & 5019 ) and timestamp ( RFC 3161 ).
Because MPKI for Adobe CDS is a hosted solution, organizations leverage Symantec's state-of-the-art security expertise instead of having to develop it in-house. Organizations that are already using a content management system to centrally create PDFs can deploy Symantec MPKI for Adobe CDS on a new or existing Hardware Security Module (HSM) to enable centralized and mass digital signing of PDFs. A smartcard or token-based option is available to sign PDF documents on an individual basis.
Save time, save money, and increase security
with MPKI for Adobe CDS MPKI for Adobe CDS provides a simple and reliable way to generate and manage trusted digital IDs for individuals, groups (i.e. marketing), or companies. With MPKI for Adobe CDS enabling secure electronic signatures, organizations can at last digitize workflows end-to-end—and realize the full benefits of their investment in electronic workflows, including faster processes, cost savings, and increased security.
Top ^