Что может добавить PKI в ваши услуги XaaS?
Web и Server Security - использование сертификатов SSL / TLS для шифрования данных и подтверждения идентификации на сайтах, посещаемых клиентами.
Secure Email - цифровая подпись и шифрование электронной почты с сертификатами S / MIME для подтверждения личности отправителя и сокращения фишинга, отслеживания электронной почты и потери данных.
Подписание документов. Возможность цифровой подписи и удостоверения документов PDF или текстовых документов с идентификацией для устранения подписи с использованием мокрых чернил, обеспечения безбумажной рабочей среды и защиты содержимого документа от несанкционированного доступа.
Временная привязка. Используйте стороннюю службу для достижения неотказуемости вокруг транзакции.
Symantec Managed PKI for SSL
Гибкий контроль и управление рисками для нескольких сертификатов SSL Сократите стоимость и сложность управления цифровыми сертификатами благодаря Symantec Managed PKI for SSL. Если в вашей организации используется много цифровых сертификатов, выдачей которых занимаются несколько администраторов из разных организаций или разных подразделений организации, то Managed PKI for SSL может обеспечить как централизованное управление, так и делегирование администрирования.
Managed PKI for SSL — это основанная на облаке платформа, которая может работать на любом компьютере, подключенном к Интернету.
Основные возможности
Надежная масштабируемая услуга, позволяющая управлять десятками и сотнями сертификатов SSL и сертификатов подписания кода.
Комплексная поддержка всех типов сертификатов SSL, включая Extended Validation (EV), Server Gated Cryptography (SGC), SAN for Unified Communications и финансовые сертификаты SSL для OFX
Поддержка трех алгоритмов шифрования: RSA, DSA и ECC в одном сертификате SSL
Безопасная консоль на основе облака
Мгновенная выдача сертификатов в заранее одобренных доменах
Делегированное администрирование и доступ на основе ролей
Настраиваемый процесс отправки заявки на получение сертификата
Подробные отчеты и журналы аудита
Поддержка обширного набора сертификатов SSL
Оценка уязвимости
Ежедневное сканирование веб-сайта на наличие вредоносного кода
Symantec Seal-in-Search
Ключевые преимущества
Идите в ногу с требованиями бизнеса, используя надежную глобальную инфраструктуру PKI, время бесперебойной работы которой достигает ста процентов
Обеспечьте непрерывную работу бизнеса, управляя всем жизненным циклом сертификата SSL, используя центральную консоль и средства автоматического продления
Повысьте динамичность бизнеса благодаря возможности просматривать и утверждать запросы на получение сертификатов за считанные минуты
Повысьте степень доверия веб-сайту, используя печать Norton Secured Seal
Защитите веб-сайт, выявив наиболее опасные уязвимости и предотвратив распространение вирусов
Поддержка, отмеченная наградами
Symantec® Managed PKI for SSL is a centralised way to buy and manage SSL certificates. It allows managers to delegate certificate administration while maintaining central oversight and control.
One time authentication and verification of an entity and domain
All certificate types available in one platform (Standard SSL, Premium SSL, Standard SSL EV, Premium SSL EV, Wildcard, SANs, CodeSigning)
Certificates issued within a few minutes once requested
30-Day Free Revocation
Unlimited Replacement
Test Certificates
Certificate Lifecycle Management - revocation, replacement, renewal, view domains - ease of access and use
Alternative certificate delivery - ability to download certificates anytime
Consolidated and short ordering process: 1 order, 1 invoice, 1 payment
Flexible certificates´ validity period (1-3 years)
Centralized management of certificates across different BUs or subsidiaries
Managed by one or more administrators
Delegated Administration - multi-level delegation of administrator roles per Organization (O) and Organization Unit (OU)
In-depth Reports - customized reports per organization, per administrator, with certificate details; detailed usage history of certificates
Private CA allows the continued use of internal server names and reduces the risks, errors, and costs associated with Self-Signed CAs.
SSL Discovery allows to discover all SSL certificates in your environment regardless of CA
SSL Automation allows to automate the renewal of Symantec certificates to save time and reduce the risk of human error
Norton Secured Seal viewed over a billion times a day in 170 countries
Seal in Search displays the Norton Secured Seal alongside a company's entry in search engine results increasing trust and earning more clicks.
Elliptic Curve Cryptography (ECC) Algorithm which is 10,000 times harder to crack than RSA and 7-10% faster using less CPU power
Vulnerability Assessment & Malware Scanning
Secure App Service enables to sign apps and files in the cloud, protect signing keys and provides reporting of signing activity
24-hour support
Symantec Secure App Service (Secure Code Signing)
Symantec Secure App Service is a comprehensive code signing management solution that includes vetting and approval of software publishers, code signing, key protection, revocation, administrative controls, reporting and audit logs. This cloud-based service also features unique or rotating keys to sign apps and centralized protection in Symantec's military-grade data centers.
Key Features and Benefits
Easy-to-use dashboard for code signing and management of keys and signing requests
Support for all major file types: Microsoft, Java desktop, Java mobile, Android, file hashes and others
SOAP APIs for integration with other systems and workflows
Reports and audit logs to track signed code and activities
Access restriction by IP range and IP logging when applications are signed
Unique signing keys
Rotating pool of keys
Maintain integrity of files and apps by eliminating issues from lost and stolen signing keys by leveraging Symantec's secure cloud-based service
Drive business agility with support for all major file types and integration with third-party test houses
Minimize non-compliance and enforce accountability with detailed reports and audit logs
Prevent fraud with authentication by IP address(es)
Browsers Supported: Firefox 15.x or later on Windows XP, Windows Vista, Windows 7, Mac OSX 10.6 or later Internet Explorer 8.x and 9.x on Windows XP, Windows Vista or Windows 7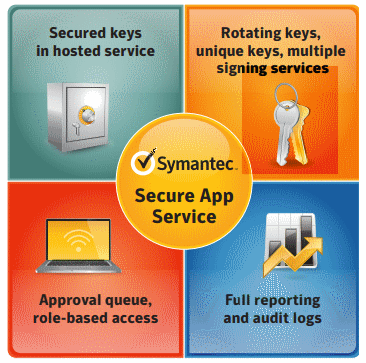 Overview
Traditional code signing provides a way for software publishers to assure their customers that the apps and files they have downloaded are, indeed, from them and have not been tampered with. Unfortunately, inadequate controls around this process can lead to malware propagation. According to IDG News Service, "Malware authors are signing their malicious creations with stolen digital certificates to bypass antivirus detection and defense mechanisms" (IDG News, March 15, 2012). Compromised certificates make news headlines and can lead to poor reputation for your company, and revoking these certificates could result in your distributed applications to suddenly appear as untrusted.
Symantec Secure App Service is a cloud-based code signing and management solution with a complete range of services to help enterprises control and secure their code signing activities and keys easily. Services include vetting and approval of software publishers, code signing, key protection and revocation, administrative controls, reporting and audit logs
Maintain Integrity of Files and Apps, and Secure Keys
Traditional code signing requires companies to have tight management controls over their code signing activities and keys. Without proper security and controls, there is no tracking of signing activity or auditing, no accountability for signing, no rights management, and the signing keys are often vulnerable to theft or can easily be lost. Symantec Secure App Service provides security and convenience: you can sign desktop files and apps and then secure the keys in the same cloud service. This helps prevent keys from being stolen and deployed for nefarious purposes while ensuring the integrity of files downloaded by users.
Maintain Business Continuity with Rotating Keys and Unique Keys
Contrary to industry best practices, some companies use the same key to sign many of their files and apps. If the key is compromised and needs to be revoked, all the files and apps signed using that key will have to be recalled and will not be available to users. Companies may experience a ripple effect in terms of costs associated with unavailability of these assets to their users as well as additional resources required to track and re-secure the assets. With Symantec Secure App Service, companies can deploy unique keys to minimize adverse business impacts in the event a key is revoked. In addition, for publishers on Windows®, they are provided with a pool of keys to sign and rotate through. This allows them to maintain their ranking with Microsoft SmartScreen® Filter while minimizing the business impact if a key has to be revoked.
Enforce accountability with reports, and audit logs
Traditional code signing warns users when files and apps are tampered prior to download and protects users and businesses from malware. In order to attain an enterprise-wide view of keys and code signing activities, administrators would have to spend additional resources to discover and track that information. Symantec Secure App Service provides reports and audit logs so that administrators can easily track and monitor activities. The availability of reports and audit logs helps companies enforce accountability and compliance. Companies have access to reports and logs on all signing activities in one area providing them with insight and data for risk analysis, forecasting and resourcing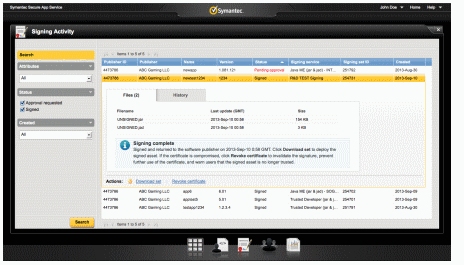 Maintain Tight Control with Approval Queue and Role-based Access
As part of industry best practices, companies should maintain tight control over who should have access to sign apps and files as well as the access level based on the role of an individual. With proper access control, companies can minimize security risks and avoid business disruptions. Symantec Secure App Service provides the capability for companies to manage and maintain control over their publishers. With this Service, administrators can approve or revoke access. Access can be granted based on roles and responsibilities. When a publisher leaves the company or changes roles, access can be revoked or adjusted accordingly.
Top ^